Choosing A Foundation Repair Company
The Yellow Pages and the internet have numerous foundation repair companies listed so how do you go about choosing a reputable company?
The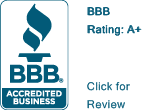 BBB – Better Business Bureau. When calling the BBB, always talk to an individual and tell them the name of the company you are inquiring about. Some of our less reputable competitors frequently change their phone numbers to lose the complaints which show up with the BBB automated system based on the company phone number.
Many companies list a huge number of years experience for their business, but in many cases, many of those years may have been spent experimenting with different and unproven products and gimmicks that don't always work. Ask for the name of the manufacturer for the product being recommended and then check with that manufacturer to see how many years the dealer has been authorized to install the product. No one has more experience with the jacked-in steel pipe piering foundation repair system than Perma Jack of St. Louis.
You can hire a local Professional Engineer specializing in this kind of work, have them analyze your foundation problems and suggest repair solutions together with a recommendation for a reputable foundation repair company. Be sure the foundation repair company is not one which gives kick-backs for referrals. Yes, sadly, this happens.
Put your trust in the Pema Jack Company as many thousands in St. Louis already have.
Piering, Tie Backs, Wall Braces, Sub-Drains And Sump-Pumps
Because Perma Jack is committed to a proper analysis of your foundation problems, we do not have a prior commitment nor are we limited to any particular system or repair technique. We will propose what is most appropriate in the circumstances. We have two representatives who visit homeowners and analyze their foundation problems – one is the owner of Perma Jack St. Louis and the other has over 20 years experience in this field – ensuring that you get the best advice and most appropriate recommendations for repairing your foundation and structural problems.
This is important: We have seen houses piered in the wrong place by our competitors – even worsening the problems, homes that received piers when they should have had tie-backs or wall braces, and basements that have had sub-drains and sump-pumps installed unnecessarily. Perma Jack knows only too well that your hard-earned money needs to be spent on the right work for your house and not wasted to line the pockets of some commissioned salesman.
Warranties And Guarantees
When considering the warranties and guarantees offered by a company, it is important to consider the likely longevity of the company in question. In addition to the reputable foundation repair companies in St. Louis, every shady operator in this business offers a "lifetime warranty". It isn't difficult to guess that the less reputable companies may never stand by their warranties, but how does the homeowner know whom to choose?
Because Perma Jack of St. Louis is a local franchise of a National company located here in St. Louis, any subsequent purchaser of the franchise would stand by the warranties. What other foundation repair company can give you such assurances?
Give us a call today for a free inspection of your home or structure so we can determine what is the right solution for your structural or foundation problems.