Professional Foundation Crack Repair St. Louis and the Surrounding Counties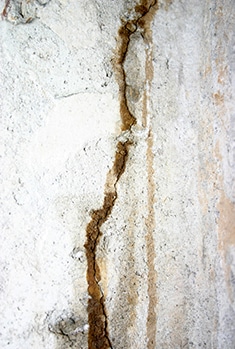 Professional Foundation Crack Repair St. Louis and the Surrounding Counties
Because your foundation is responsible for holding up the weight of your home or business, it must stay structurally intact. Foundation cracks can affect its structural stability! They create weak spots which can be pushed inward by the pressure on the outside of your foundation causing bowed walls. In addition, any crack in your foundation can let water into your basement. Our Perma Jack of St. Louis team has addressed literally thousands of cracks on both interior and exterior foundation walls, and we have the experience you need to stop foundation cracks from spreading and leaking water into your home or business.
For nearly 50 years, our team at Perma Jack of St. Louis has provided structural foundation repair to clients facing the threat of severe damage to their residential or commercial properties. Contact our team if you have noticed any foundation cracks in your basement by calling 636-225-2553 or clicking the button below.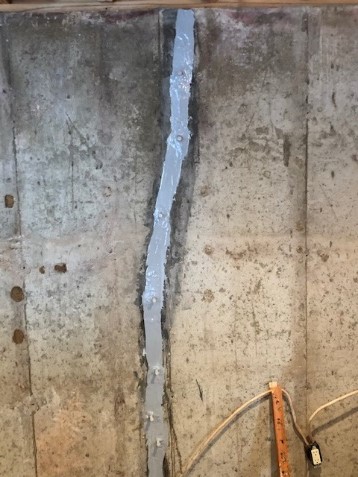 What Causes Wall Cracks in Your Basement?
Foundation wall cracks occur on both poured concrete and concrete block foundations. They may appear differently based on the material, but the same set of environmental factors causes basement wall cracks. Cracks in poured concrete walls are typically diagonal, extending from the bottom corners of the wall toward the center. Cracks in concrete block walls typically occur along the joint lines between the concrete blocks, with horizontal cracking near the mid-point of the walls and "stair step" cracking at the corners.
The leading cause of cracked basement walls are foundation settlement, bowing walls, and hydrostatic pressure. Regardless of the cause, these are serious problems that will only worsen over time if not corrected. By accurately diagnosing what conditions are causing the foundation damage, we can determine the best solution to resolve the problem.
*Hydrostatic pressure is the pressure that is caused by excess groundwater in the soil surrounding your foundation. This water builds up in the soil, adding extra weight and pressure against the foundation.
How We Fix Foundation Cracks
Our team uses a variety of methods, including carbon fiber strips, epoxy crack injection, or polyurethane crack injection to repair the crack(s) and prevent further cracking on foundation walls. We have nearly 50 years of experience testing various methods and systems for repairing foundation cracks. You can trust our experts to help you find the right solution for your wall cracks.
Carbon Fiber Crack Repair
Carbon fiber strips are incredibly strong (up to 10 times stronger than steel), low profile, and require no future maintenance. Our carbon fiber strips are specifically designed for basement wall crack repair and is 10 time stronger than steel.
Our state-of-the carbon fiber strips are specifically designed for foundation walls. Most installations can be completed in less than one day and require no outside digging.
The carbon fiber strips are bonded to the wall using a high-strength epoxy resin. Once the epoxy has cured, the carbon fiber strip absorbs pressure from the wall and prevents the crack from growing while preventing future cracks from forming along the same area, thus providing a permanent solution for cracked or bowing foundation walls. Because of their low profile, the carbon fiber strips can be painted to match the existing foundation walls, and they virtually "disappear".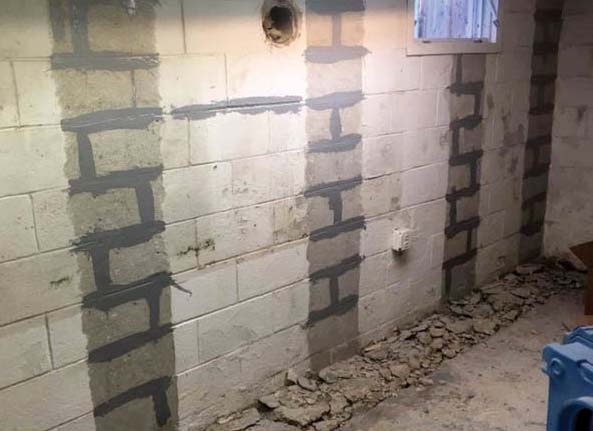 2. Carbon Fiber Installation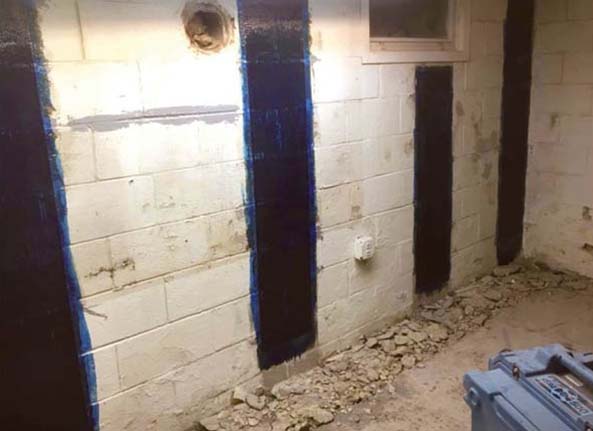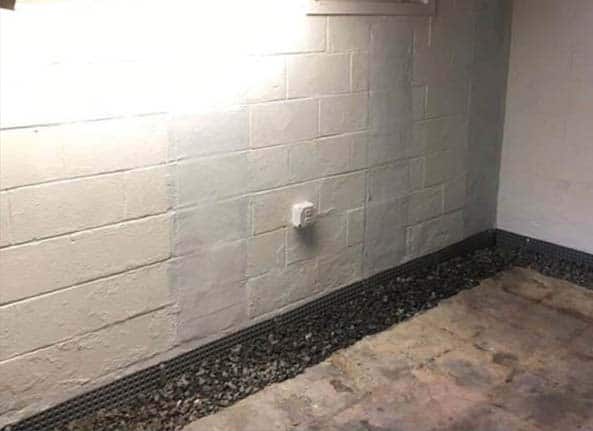 Epoxy Crack Injection
Epoxy crack injection is a long-lasting and cost-effective solution that restores structural support to cracked concrete. Our specially formulated fast-setting epoxy paste yields compressive strength of 7,920 psi and tensile strength of 3,280 psi. Because of its excellent adhesion to concrete, the unique formulation stops concrete deterioration at the crack, while protecting the steel reinforcement inside the concrete.
Polyurethane Crack Injection
Polyurethane crack injection is another viable and cost-effective solution for foundation cracks. We use polyurethane resin to seal foundation cracks and prevent water intrusion. Its flexibility and bonding strength help prevent further cracking by allowing a small amount of movement as the soil and weather conditions change. Our specially blended polyurethan resin forms a tough, flexible, closed cell foam which penetrates concrete pore structure for a superior bond. Once inside the crack, it begins to foam and expand, completely filling the crack and forming an extremely effective barrier against water penetration.
Wall Crack Repair Gallery
Contact Our Team to Repair any Foundation Wall Cracks
Contact our experts if you have noticed wall or floor cracks on your basement walls or floors. These cracks can lead to basement waterproofing problems and will weaken the structural integrity of your foundation over time. Contact our experts today by calling 636-225-2553 or by filling out the form below.
Wall Crack Repair Reviews
Bowed Wall Repair In Chesterfield, MO
We had some extensive work done to our basement. Permajack was responsive and thorough. We had a few things that we wanted touched up after completion and they made sure
…
it was completed to our expectations.
Jenn S.
Bowed Wall Repair
Foundation Crack Repair In St. Louis, MO
Very responsive and has a great team working to get the jobs done. Office team is very knowledgeable and I would recommend them to family and friends and colleagues.
Tonya R.
Foundation Crack Repair
Leaky Crack Repair In St. Louis, MO
When we had a problem of unknown severity, we called Perma Jack of St. Louis. The company was very responsive. We promptly received a visit and were relieved to hear
…
that our issue was not a major problem. We were then placed on the schedule and the repair was handled professionally and in a timely manner. We received excellent service. The representatives with which we worked were knowledgeable and efficient.
Bill W.
Foundation Crack Repair
Choose Perma Jack of St. Louis For Waterproofing and Crack Repair Services