Durawall High Performance Waterproofing Panels
Our team at Perma Jack of St Louis has the solution you need to keep your basement free of water and moisture year-round. We install Durawall waterproofing panels on the interior walls of foundations to help channel moisture and lock water out of your basement. These panels are designed to complement a full basement waterproofing system and will direct any water entering your basement through your waterproofing system.
Benefits Of Durawall Waterproofing Panels:
Meets Building Code Requirements
Mold And Mildew Resistant
Bright White Finish
Lifetime Warranty
Great Looking Panels that Keep You Dry
Durawall waterproofing panels are a great way to keep your basement dry while also hiding ugly foundation walls. The panels are installed over existing foundation walls and offer a clean surface for your basement walls.
Two Installation Options
For basements that are experiencing waterproofing issues, there are two main ways in which Durawall can be installed to keep your basement protected.
Option 1: Cover Weep Holes Only
The first installation option for Durawall is at the base of the wall. This installation method covers up weep holes which are designed to let water drain from masonry or block foundations. This installation method uses the Durawall panels to create a short barrier at the bottom of the wall which prevents water intrusion and directs water into your basement waterproofing system.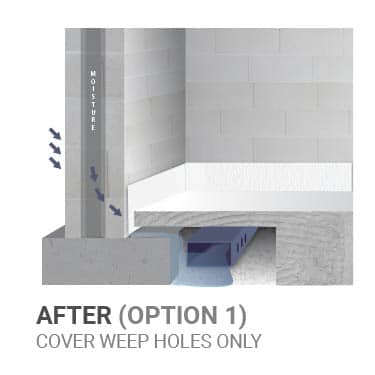 Option 2: Full Height Protection
Installing Durawall at full height has several benefits. These include full protection from water seepage in your basement, a complete moisture barrier, and the prevention of basement leaks caused by wall cracks. This system is designed to be installed in the cove joint between your foundation walls and the floor. It runs the full height of your basement walls creating a watertight barrier that protects your whole basement.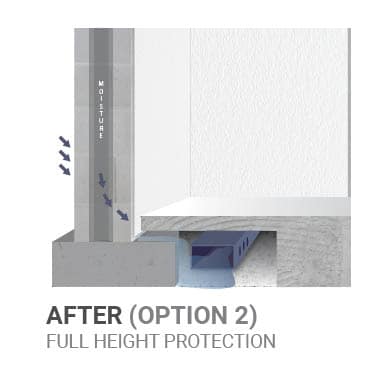 Contact Our Team for Durawall Installation in St. Louis
If you have noticed water leaking in from your basement walls, contact our experts. We offer Durawall installation for both home and business owners across the St. Louis area. Coupled with a complete interior drainage system you won't have to worry about having a leaky basement ever again. Contact our team by calling 636-225-2553 or by filling out the form below.
Choose Perma Jack of St. Louis For Waterproofing and Crack Repair Services