The Perma Jack® System Foundation Piers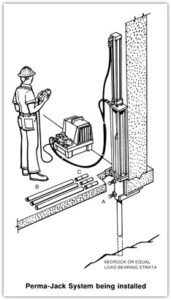 The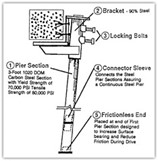 Perma Jack System used for stabilizing or lifting a foundation is a frictionless piering system preferred by structural engineers. It consists of a 44 lb. steel weldment that is placed under the foundation.  Attached to the weldment is a hydraulic cylinder which hydraulically presses 3 foot sections of steel pier/pipe into the earth until bedrock or equal load bearing stratua is reached. The 3inch round steel pipe is made of high-quality carbon steel.Each section of pipe is connected by a specially machined fitting designed to align and firmly connect the sections, insuring a continuous steel pier.
At the beginning of each steel foundation pier is a friction-less end which increases the surface bearing to bedrock and displaces a greater volume of soil as the piering pipe is being driven, resulting in less wall friction during the drive.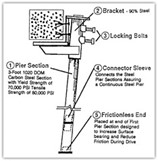 Each foundation pier is engineered and manufactured to support 16,000 pounds of the structure and is overloaded for at least 30 minutes under a test load of 32,000 pounds, assuring contact with bedrock. The pier is then locked in place by two 3/4 inch locking bolts. The locking is accomplished by drilling a series of pilot holes and then a tap size hole for the two locking bolts which penetrate the wall of the pipe, locking the Perma Jack bracket and pier in place under the above-mentioned load. The driving cylinder is then removed and any excess pipe that would protrude above the ground or floor is cut off. The hole is backfilled and patched, if necessary, completing the Perma Jack System.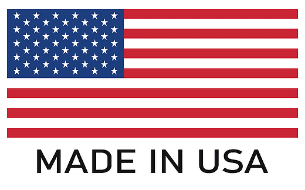 Each component utilized in the Perma Jack System is manufactured in the United States of the highest quality material.
Because of the advanced design and simplicity of the Perma Jack System, the lifting of a structure is performed using the same technique, manpower, and procedure. Although some additional time may be required, these advantages with the Perma Jack System make lifting a normal capability of the Perma Jack System.